Foreword
Dear Readers,
Amprion GmbH has successfully completed the 2019 financial year: our company's revenues and income increased to 14,518 million euros, 4.5 per cent higher than the previous year. The main driver for this was the result-neutral implementation of the EEG equalisation mechanism, which amounted to 11,457 million euros. Revenues from grid business also increased. They climbed to 2,888 million euros (previous year: 2,839 million euros). In total, the annual profit achieved in 2019 rose to 220 million euros. This was mainly due to the increased capital base resulting from grid expansion and the write-back of provisions.
The transformation process of our energy system in Germany continued to pick up pace in 2019. The phase-out of nuclear power is being implemented step by step, and the political course for ending coal-fired power generation has been set. With its "Green Deal", the European Commission has also shown how Europe can become climate-neutral by 2050.
These debates and political decisions are having a significant impact on Amprion, because they set out new parameters according to which we will plan, build and operate our transmission grid in the future. The core question for us in this context is: how can we shift towards a climate-friendly energy system without affecting the stability of our transmission grid and without any loss of electricity supply security?
As a transmission grid operator, it is our task not only to accompany these energy policy debates, but also to develop solutions. We worked intensively on this during the past financial year, because in view of the long period of time between planning and approval to the commissioning of a project, we have to take action today if we want to have a more high-performance and flexible grid in the future.
Grid expansion remains a crucial cornerstone in making our energy system future-proof. It not only has to be speeded up even further, but must also be expanded in a macroeconomically sensible manner. This is why we are implementing new projects such as Corridor B, which is intended to transport direct current from the North Sea coast to the main points of consumption in the future. This also applies to the offshore connection lines, which are set to transport wind power to North Rhine-Westphalia from 2028. At Amprion, these major projects are being supplemented by pinpoint, regional strengthening of our alternating current grid. These are joined by innovative technological solutions: for instance, we are installing reactive power compensation facilities at a number of points throughout the grid to stabilise the voltage in the grid. Fluctuating feed-in from renewable energies is also increasing system management complexity at Amprion; we are gradually preparing this for the growing challenges. We have already achieved an important milestone in this area through the new central control station in Brauweiler near Cologne.
The tasks and challenges facing us as a transmission grid operator are immense. We are rising to meet them with confidence, a strong economic foundation and the support of our shareholders. On this basis, we are able to meet and efficiently finance the investment requirements, which have increased to over 15 billion euros. This is also reflected by Amprion's positive rating, which Moody's and Fitch have evaluated as "A3" and "BBB+".
Against this background, Amprion is looking optimistically to the 2020 financial year. We want to seize the opportunities related to the restructuring of our energy system. We have the right team on board to accomplish this. In 2019, it grew to more than 1,800 employees. We would like to express our confidence in you and offer our sincere thanks for our company's positive growth during the past financial year.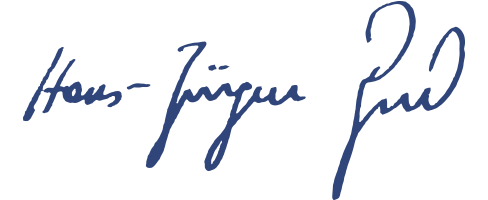 Dr Hans-Jürgen Brick
Chief Commercial Officer and
Chief Financial Officer

Dr Klaus Kleinekorte
Chief Technical Officer